Xbet Welcome Bonus Verified Bonus Bet Now First Deposit Only: Verified Bonus Bet Now Information Payout Speed: 1 – 8 Days Licenced by: Depositing Methods Licensed In Curacao Deposit Options VISA, Mastercard + 3 others Free Welcome Bonus Welcome Bonus up to $300 XBet Modern Interface Generous Sign Up Bonus US Friendly What we liked? […]
11 minutes read time
Xbet Welcome Bonus
100% up to
$300
Verified Bonus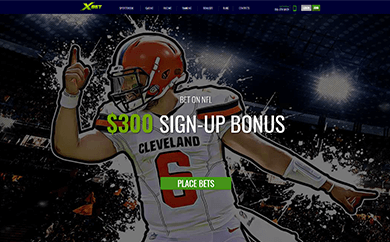 XBet
Modern Interface
Generous Sign Up Bonus
US Friendly
What we liked?
Great Odds
Excellent Banking
Spotless Reputation
What we disliked?
Lacking Bonus System
Slow Payments
XBet.ag is often touted as a no-nonsense online sportsbook that primarily caters to serious sports bettors. If that is what you are looking for, then you are exactly where you should be. Finding a gambling site that promises to do whatever it takes to ensure that its customers are satisfied with the gaming experience is extremely difficult. This XBet sportsbook review is here to show that it is possible to find a great online sportsbook that checks all of the right boxes for just about any kind of sports bettor, not just the "serious" ones.
XBet which is certified and regulated by Curacao eGaming was certainly not born yesterday even though it has been in operation for a relatively shorter period than most, if not all, of its competitors. This basically means that the online sportsbook has matured enough to deliver exceptional services to its growing customers base. Its success has been fueled by a wide range of factors and with all the support that it is getting from the public, it is definitely set to grow even further in coming years. We are going to explore some of the reasons why we have such high hopes for the casino which is already a force to reckon with in the online sports betting sector.
The History and Background of XBet
Launched in XBet in 2013, XBet.ag is one of the younger online sportsbook businesses available to customers in the United States. With less than a decade of operation in the sector, the company has been able to achieve certain things that took other sportsbook decades to do well. This is a very big achievement and XBet is very proud of it – in fact, it promotes itself as the "the last sportsbook you'll ever join" and this might just be accurate enough considering all of the amazing features that new players can look forward when they sign up on the site.
Since it was launched, XBet has been one of the few offshore online sportsbooks that have committed to running its business above board. Some of the steps the company has taken have included acquiring gaming licenses from the Antigua and Barbuda Director of Offshore Gaming. This is meant to assure the customers of the site's dedication to being a trustworthy and reliable gaming site.
Over the years, there have been a few customer complaints but we are happy to report that the operator dealt with the issues very professionally and all this was done with the customer's welfare at heart.
Why We Like XBet
Considering the large number of very competitive sports betting offerings that are currently available online, it is safe to say that XBet would not dare make the claim that it is "The last book you will ever join" unless, of course, it is ready to back that claim up. Now, the site does live up to its name, assuming the "X" in its name stands for "extreme" – in essence, the sportsbook takes many of the great features that are expected of any sports betting platform and it takes them to the very extreme, positively, that is.
Game Variety
Once you sign up on XBet sportsbook it will be quite easy to get overwhelmed by the sheer number of sporting activities that the site allows you to place bets on. It covers all of the major sporting activities including football, basketball, soccer, hockey, baseball, boxing, cricket, horse racing, and tennis among others. Heck, you can even bet on religion, business, politics, and entertainment on the site, that is, if you are interested in those kinds of things.
Fans of esports will also be happy to know that XBet has been evolving with the times and it allows customers to wager on esports events. In fact, esports is currently the fastest growing segment and one of the most popular betting options on XBet.ag. This does not come as much of a surprise as more and more people are beginning to understand and appreciate esports. If you are one of these people, Xbet promises you daily betting markets, the best odds as well as excellent coverage of esports events and tournaments from all around the globe.
The User Interface
The online sportsbook's site is excellent and this is not just because of how easy it is to use it but also because it offers a ton of customization options and neat features that all add up to an excellent gaming experience. Everything on the site loads quickly including all of the available in-play action callouts.
For new bettors, finding games is extremely easy thanks to the powerful search functionality that has been built into the site. With this feature, players are able to quickly lookup specific teams, sports or events.
As for the customization options that are available, the site allows its customers to quickly and easily adjust the time zone. In addition to that, the online sportsbook further gives customers the option to tweak how their odds are displayed – bettors can switch between American, decimal or even fractional formats. All that you need to do is to contact the customer service staff and they will promptly make the change for you.
Reputation
The great game selection and its excellent user interface aside, the site is also known for being very reliable and secure. XBet.ag uses the latest and greatest Secure Socket Layer (SSL) digital encryption technology to ensure that customer funds and personal details remain safe, secure and private. Moreover, the sportsbook is licensed and regulated by Curacao eGaming which is one of the most respected and reputable regulated authorities in the industry. To top it all off, they have partnered with some of the world's best software providers which means that they are able to get the best odds to their customers before most other sportsbooks.
The Mobile Experience
Unlike most other online sportsbooks, customers will never need to go through the hassle of finding standalone apps in order to enjoy placing bets on their favorite sporting activities. XBet has an excellent, fully optimized site that works seamlessly across a wide range of devices including tablets and smartphones. This strong mobile betting experience is one of the features that has propelled its growth since most people prefer to bet from wherever they are these days.
All Sportsbooks Recommended Are
100% Guaranteed Secure Deposits
Human-Verified Bonuses
Zero-Risk Betting with Industry-Grade Cyber Protection
What XBet Needs to Improve On
First off, we have to give XBet credit for offering some of the fastest payouts in the industry. However, they seem to be too serious with the "for serious players" part when it comes to how much these payouts cost the bettors. The customers cannot even withdraw funds from their accounts unless they have at least $100. Many fans of the site are hopeful that this will change so that the site becomes friendlier to rookies and recreational players.
Another thing about XBet that has drawn some criticism is related to its bonus options. While the bonuses its offers are certainly not the highest ones in the market, many people have been very satisfied with them. The problem is with the rollover requirements for these bonuses which are, quite frankly, too high. These are also tailored to suit the needs of professional players who do not usually care much about bonuses. The sportsbook definitely needs to work on adding more bonus options but before that, it would be greatly appreciated if it reviewed the policy on its rollover requirements.
Bonuses and Promotions at XBet
As mentioned above, there are various aspects of its bonus and promotion programs that need to be tweaked a little. Even so, this does not mean that players are completely deprived of useful bonus features and promotions. As a matter of fact, XBet boasts of a solid lineup of bonuses and promotions that give the bettors the chance to get much more value out of the gaming experience.
The Welcome Bonuses
To begin with, new players can take advantage of the initial welcome bonus which is a 100% match bonus up to $300. It is a great way to get started but it is worth noting that it comes with a pretty high 50x rollover requirement. Others are spread out as follows:
20% sign-up bonus up to $500 (initial deposit only)
100% casino sign-up bonus up to $300 (initial deposit only)
25% reload bonus up to $500 (initial deposit only)
There is also the $1,000 Welcome Bonus Offer gives players 100 percent of their initial deposit up to a whopping $1,000. To get this welcome bonus, players will need to deposit at least $100 which might be too high for some players. As such for, players with lower bankrolls, the site offers a 50 percent deposit bonus for initial deposits from as low as $1 all the way to $99.
There is also a special bitcoin welcome bonus that is made for players who may wish to use bitcoin as their preferred payment method.
The Referral Program
The online sportsbook also offers players the chance to earn up to $100 for referring their friends to the site. As such, so long as your friends deposit decently high amounts of money into their accounts, you will be in for very satisfying paydays.
Other bonuses and promotions that players will come across on XBet.ag include:
Referral Bonus
MMA and Boxing Bad Beat Promotion
Spread the Word Promotion
75 rebate for existing customers
20% Risk-Free Bet
Payment Options
In as far as making instant deposits and fast withdrawals are concerned, XBet does not lag behind any of its competitors. The site offers a diverse selection of banking options which is very rare especially in the United States. These payment options include credit cards, bank transfers, eChecks, eWallets, MoneyGram, ACH, Person-to-Person transfers and Phone transfers among others.
Moreover, XBet also happens to be among the very rare breed of online sportsbooks that allows its users to deposit and withdraw funds using bitcoin. This method offers the customers instant, secure and lightning-fast transaction processing. Besides that, as mentioned earlier, there are special bitcoin bonuses available to bitcoin users.
The payment options you choose is totally up to you and you can expect to enjoy the full benefits of that particular method once you start using it.
Customer Support Services
With three different ways of contacting customers support staff available, XBet users can have their issues or queries handled quickly and efficiently so that they can get back to placing bets on their favorite teams. The support staff members are very professional but they still are very friendly which makes it very easy to understand the needs of the users. They can be found 24/7 and in case you prefer not to speak to anyone, you can still make use of the simple email contact form that is included in the contact page of the site.
How the Public Perceive XBet
Despite the fact they operate in the offshore industry, XBet's customers have a predominantly good opinion of the bookmaker. Not only because the bookie accepts customers from many countries where the alternatives are deplorable, but also that XBet's own benchmarks of high quality are quite remarkable indeed.
With no accidents to tarnish its reputation, it's safe to say that XBet is a rather preferred choice among aspiring gamers. Even then, it helps to know that over time a bookmaker can become too self-indulgent and betray the trust that it has been building for years. XBet doesn't seem to be one of those companies.
Final Thoughts
Now, as you may have realized from this XBet sportsbook review, the site is certainly not interested in staying true to the traditional way of doing things. The online sportsbook is all about staying up to date with the latest trends and offering its users the best possible experience in the process. Often times, it's about setting new trends altogether.
For this reason, the site has been the most attractive option for newbies as well as avid sports bettors that are looking for a more polished gambling experience. The site is constantly working to be better and despite its shortcomings, once you sign up, there is no going back!