SportBet Welcome Bonus Verified Bonus Bet Now First Deposit Only: Verified Bonus Bet Now Information Payout Speed: 1 – 6 Days Licenced by: Not applicable Depositing Methods Licensed In N/A Deposit Options VISA, Mastercard + 4 others Free Welcome Bonus Welcome Bonus up to $100 SportBet Straight Foward Interface Up-to-date Events US Friendly What we […]
11 minutes read time
SportBet Welcome Bonus
50% up to
$100
Verified Bonus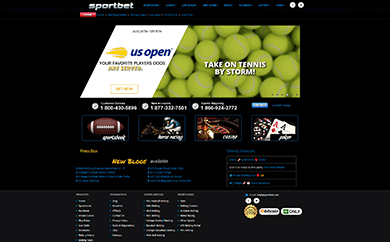 SportBet
Straight Foward Interface
Up-to-date Events
US Friendly
What we liked?
Great Banking Options
Bitcoin Accepted
Responsive Support
What we disliked?
Long Registration
Not Anonymous
SportBet may seem like an offshore rookie, but they have done quite well in emulating the mainstream sportsbooks out there, and today's SportBet sportsbook review is here to help you see why this is so. Their approach and strategy are not that of a marginalized operator that's desperate to stand out from the crowd. The site is the full package when it comes to being the proper embodiment of an outstanding sportsbook. A brilliant multi-purpose facility, SportBet is more than a mere bookmaker, with every aspect of its offer hammered with diligence.
While you won't find an active certification on the website, you can rest assured that the public sentiment favors the brand. The company provides betting options that the majority of their offshore rivals have thought unnecessary. SportBet goes to great lengths in order to provide you with all the available betting options you could ever wish for.
With this being said, we embark on our review in a bid to determine the qualities of arguably one of the best bookmakers in the offshore sports betting industry. Naturally, we approach the subject meticulously. Before long, however, you will see for yourself that this is an operator that was established at the very onset of the gambling industry and has moved with the times.
From the straightforward banking facilities to the elaborate bonus page, there's hardly anything that doesn't reiterate this online sportsbook's excellence. This SportBet sportsbook review breaks down all of the important aspects of the amazing online gambling platform. We focus on everything that promises to make your stay worth your time.
Reasons to Bet at SportBet
As you will eventually come to see by the time you finish reading this SportBet sportsbook review, there is quite a lot to love about the site. But what makes it such a great online gaming destination? Here are some of the reasons:
Reputation
If you know anything about the sports betting industry, then you understand just how insanely competitive it can be. That being said, a great reputation goes a long way in not only ensuring that an online casino not only stands out among the rest but also contributes to its survival in the long run. SportBet has been in the industry for over two decades now and there was no luck involved. Obviously, it has been doing a lot of things right, hence its capability to retain a significant portion of the online sports betting market up until now. From great customer support service to an admirable history of dispute resolution as well as top-notch safety and security features, SportBet has built up an admirable public image.
Mobile Betting
Everything is mobile these days, even gambling and placing wagers on the Packers vs Bears NFL 19/20 game. The SportsBet team is certainly aware of the fact and they have responded by working on a functional mobile version of their website. This mobile site has managed to fit what players see on the desktop on the smaller smartphone and tablet screens .
Many sports bettors have been very happy with what the site has to offer. Truth be told, many of them prefer to have all the functionality offered by SportBet's mobile site instead of the more polished interfaces with limited functionalities that are offered by many other mobile sportsbooks.
Reduced Juice
As mentioned earlier, SportBet is a sister site of 5Dimes which means that it also offers -105 pricing instead of the regular -110 that many other online sportsbooks charge. Put simply, you need to wager $105 to win $100 rather than the normal $110 rate.
For many players, the benefits of paying reduced juice on each of their bets are a big deal as they not only get more value out of the little money that they spend but they also get to save up to hundreds or even thousands of dollars in the long run.
Live Betting
Nothing beats the thrill of being able to place bets while a sports even is afoot. At SportBet.com sports bettors get to do just that! The sportsbook allows its customers to place bets at different points of a wide variety of games. Some of the things that they will be able to place wagers on include the type of score and which player will score next among many other things.
Areas of Improvement for SportBet
Perfection is basically impossible to achieve. We get it. However, it does not really hurt to try and this is exactly what SportBet should be doing when it comes to its user interface. While we certainly appreciate the top-notch functionality that the site offers, there is no good way of saying this: the site's design is not well organized and feels very archaic.
For loyal customers, this might not be much of a big deal but it may be a deal-breaker for the younger generation of players who may then choose to try out other more aesthetically pleasing online sportsbooks. That said, even the slightest improvements to the site's user interface will have a significant positive impact on the overall gambling experience.
There are a few other issues such as the paper trails left behind by all payment options that we wish would be addressed. They are rather minor issues but it is worth mentioning them so that our readers know exactly what they are getting into when they choose SportBet.
All Sportsbooks Recommended Are
100% Guaranteed Secure Deposits
Human-Verified Bonuses
Zero-Risk Betting with Industry-Grade Cyber Protection
Wagering Options
SportBet features an impressive slate of sporting activities that players are able to bet on and with very little juice accompanying them, it is easy to see why it is still growing despite the increase in the number of competitors.
Sports bettors have an enormous amount of wagering options that include all leading sports such as basketball, football, baseball, hockey and even soccer which are quite popular in the United States. For players with other interests, there are many more activities that are available and they include tennis, golf, boxing, mixed martial arts, volleyball, rugby and cricket among others.
In terms of lines, the site offers them much earlier than its competitors. Besides that, there are an extensive range of futures bets accompanied by several wager types including parlays, teasers, action reverses and even proposition bets.
Bonuses and Promotions at SportBet
One of the very first things that new players will notice when they join SportBet is the extensive range of bonus and promotions that are available for them to take advantage of. Some of the best ones include:
New Player Free Play Bonus
This is the most popular and most value-added bonus offered by the online sportsbook. Players receive a total reward of up to whopping $520 for their first deposits. The maximum first deposit is $2,000 which means that high rollers can reap a lot from it and players with relatively low bankrolls can also benefit from the bonus.
30% Super Saver Bonus Program
Here the players pay out only -107 for a handful of popular bets that usually pay out at -110. It is arguably the best method for new players to take advantage of the reduced juice and thus save huge amounts of cash by paying less commission to the bookmakers.
Cash Back Bonus Promotion
This promotion gives the sports bettors 20% cash back on their overall losses. While it can only be claimed twice every year, loyal and consistent players stand a chance of raking back huge chunks of the money they lost while playing on the site.
20% Refer a Friend Bonus
SportBet's referral program is, without a doubt, one of the best ones on the internet. For every player that you refer to the site, you will be awarded free play that is worth 20% of your friend's initial deposit up to $200. Exciting, isn't it? However, it is important to note that this bonus can only be claimed within 24 hours of the new player's first deposit. So, make sure you act fast.
Payment Options
SportBet.com has been widely praised for having some of the safest, most reliable and quickest deposit methods in the online gambling industry.
For deposits, the online sportsbook offers its customers a total of six different payment options, that is, as of this writing. They include:
Credit cards
Person-to-Person (P2P) transfers
Money Order
Bitcoin
Account to account transfer
Sportsbook transfer
For withdrawals, the company also offers a decent number of payment options but it is worth noting that you will need to be quite picky in this case since most of them are accompanied by some withdrawal fees. Fortunately, compared to what other online casinos charge for withdrawals, the amounts charged by SportBet for the same are reasonable and fair. The available withdrawal options are:
Cashier Check
Person-to-Person (P2P) transfers
Money Order
Bitcoin
CCFA
DCFA
Bank Wire
Account to Account Transfers
Sportsbook Transfer
SportBet's History and Background
SportBet.com is one of the oldest online sports betting sites . The company has over 20 years of experience in the gambling industry. Having been around for so long, SportBet has racked up quite the reputation and this can be partly contributed to the fact that it's the sister site of 5Dimes, another great operator. The two online gaming sites have quite a lot in common which makes it quite easy for bettors to switch to SportBet, which has a slightly more modernized look. In fact, the two sites even share the same login and password information which means that, in some cases, 5Dimes customers do not need to create new accounts when switching to SportBet.
Even though SportBet.com has been criticized for being reluctant to officially acquire a gaming license, the public has been very supportive of the gambling site because of all the amazing things that it has brought to the table. All things considered, SportBet remains excellent choice for any sports bettor that is looking to find a well-rounded gambling experience with lots of great gaming options and features.
Even though SportBet has experienced some complication in the past with regards to customer satisfaction, the staff have been known to resolve all issues as they arise, delivering prompt solutions. Now, this online sportsbook definitely does not have a spotless history but the way it has handled all of the issues that have cropped up during its operation is commendable. This cannot be said of a number of other online sportsbook sites. No wonder SportBet remains one of the most popular sports betting destinations for bettors living in the United States.
Customer Support Services
With a number of different ways to reach customer support services, sports bettors can rest assured that all of their queries will be sorted out promptly and with the utmost professionalism. The services are available 24/7 and are provided by well-trained and friendly support staff who value their customers more than anything.
To make the support experience more seamless, the online sportsbook has several different phone numbers each dedicated to specific issues that customers may face. They are listed below:
Sports Wagering: 1 -866 WAGER SB (866-924-3772)
Horse Wagering: 1-800-243-7071 / 1-800-304-6773
Customer Service: 1-800-430-5896
New Accounts: 1-877-332-7501
If you prefer to reach the services using other mediums, here are the available options:
How the Public Perceives SportBet
SportBet has never fallen foul of the public opinion. Perusing the news available for the website, we have found out a lot about the company's plans to expand and cater to a vast majority of users. When we took to forums where people exchanged opinions about a given bookmaker, we couldn't find anything incriminating. The opinions were well-balanced and argumentative, meaning that SportBet is certainly on the right path.
Our Verdict
Now, with all the great online sportsbooks that are available on the internet, it is quite hard for people to differentiate the sites. This is not the case with SportBet.com. Not only is it instantly recognizable for the amazing perks it offers, but it is also highly recommended for players who prefer functionality over everything else.
Other than a few negligible shortcomings, SportBet is certainly a great place to get started with your sports betting adventure regardless whether you are a professional bettor or a recreational player. Rest assured, whatever you think it lacks, it makes up for in very many other ways. You can take our word for it.