GTBets Welcome Bonus Verified Bonus Bet Now First Deposit Only: Verified Bonus Bet Now Information Payout Speed: 1 – 8 Days Licenced by:
1 minute read time
GTBets Welcome Bonus
100% up to
$500
Verified Bonus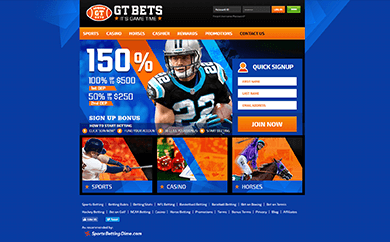 GTBets
Straight Foward Interface
Up-to-date Events
US Friendly
What we liked?
Fee Free Deposits!
Fast Withdrawals
Variety of Sports to Bet
What we disliked?
Restricted US States Allowed
Website Appearance
Experience in the Industry
GTBets or 'Game Time' bets is an online offshore sports betting website focused on the North American market. The sportsbook offers various betting options such as football, baseball, basketball, soccer, combat sports, and other professional sports. In today's GTBets review, we will cover a number of important points that will help you understand what this sportsbook has to offer you. We will also answer important questions about the website, such as:
What promotions can you get at GTBets.eu?
Which payment options can you use to deposit and withdraw money at Game Time?
What's GTBets' phone number and how helpful is their customer support?
What markets offer the best payouts at this website?
With an innovative platform, the bookie has been running since 2011, offering some exciting odds, many value betting opportunities and a good track record. The website is a great place for the majority of sports fans in the United States, and the available markets will fit any preferences.
GTBets.eu History & Background
GTBets.eu rolled its website in 2011 to customers in the United States. The company holds a license from Curacao's Gaming Control Board. For years now, the sportsbook has also been one of the fastest-growing sports company.
In a bid to avoid 'bad players' rulings, the sportsbook has been consistent in restricting specific states throughout the USA. This is done so as to comply with local regulations on sports betting. Today, you may not access GTBets if you are located in the following states:
Kentucky
Louisiana
Maryland
Missouri
New York
Washington D.C.
Pros: Reason to Bet at GTBets
GTBets successfully builds an offer that will appeal to bettors from all backgrounds. The sportsbook most notably doesn't charge any fees for deposits and allows you to save a lot of money during transactions. This reflects better on your bankroll and the funds you have to spend on sports bets.

GTBets also offers Bitcoin and Quick Cash options that guarantee quicker processing times. Bitcoin allows you to request $300 payouts once every 7 days without charging you anything for the service. Similarly, you can cash out up to $5,000 using the cryptocurrency.
US markets are clearly the focus of the sportsbook which covers all important markets, to name the NFL, MLB, NHL, MLS, NBA and others. One other area in which the company excels is – publicity. Since a minor spat back in 2013, there has been nothing to jeopardize the good name of GTBets such as we know the sportsbook today.
Cons: Areas of Improvement
With 8 years under their belt, GTBets has pulled off an impressive progress in its own time. Yet, there are certain areas in which the sportsbook can definitely improve. For example, bet sizes and available winnings could vary based on the market, which is a rather standard procedure for most companies out there.
Offering a little more flexibility would do the sportsbook well, but even in its present form – you will have a chance to enjoy a variety of possible bets across many verticals. Another thing we have noticed is that if you are looking to bet professionally, you might find GTBets to be better-geared towards recreational players instead.
GTBets Bonus Details

The sportsbook focuses on several distinct promotions to help sports fans place the best wagers while using some extra, free money. GTBets runs several excellent promotions that will help you double up on your bets or build better accumulators in the long term. Presently, there are the following promos available:
Sign-up
Reload bonus
Refer a friend
Favorite teams
Horse rebate
Let's delve into the details and see what each bonus has to offer you. You may be just starting or be looking for ways to top off your bankroll after registration. We will take it from the top with the Sign-up offer.
GTBets Coupon Codes
Before we start, let's talk about the coupon codes – better known as promo codes. Promo codes are an easy way to feel a little more engaged with the sportsbook, and they are very handy. Rest assured that we will provide you with all of these bonus codes when they become available. For now, let's have a look at what the available bonus offers you can access.
Get GTBets Sign-up Bonus
GTBets welcomes new bettors with a great opportunity to boost your overall bankroll. Deposit at least $35 to claim up to $500 up in Sign-up bonus funds. The first deposit you make – so long as it qualifies – will be matched by 100% and up to the pre-determined amount.
Once you are done with your first deposit and playing through the wagering requirements, you will get another bonus. This time you can claim up to $250 at a 50% rate of your deposit. In both cases, your bonus will be a subject to a 12x wagering requirement.
It's important to keep a few details in mind. For starters, all qualifying bets that count towards your wagering requirement will start at minimum odds of 1.33 or -300, if you use American format. Skrill and Neteller bonus deposits are not allowed for the time being.
All Sportsbooks Recommended Are
100% Guaranteed Secure Deposits
Human-Verified Bonuses
Zero-Risk Betting with Industry-Grade Cyber Protection
Reload Bonuses at GTBets
Once you have established yourself, it's time to see how you can keep your bankroll well-stocked. While reviewing GTBets sportsbook, we discovered the reload bonus which is triggered automatically.
You simply need to meet two criteria 1) your account balance should be equal or smaller than 25% of your previous deposit and 2) you must not have 'withdrawal' as your last transaction in your payment history. There is another condition that requires your account to be segmented for you to receive the bonus.
Back Your Favorite Teams
Who says trusting your gut and backing your favorite team is a bad thing to begin with? GTBets offers you a rare opportunity to support your favorite teams in the promotion named the exact same way – 'Favorite Teams'. At the beginning of each season, you will be allowed to select a team for whom you will root throughout the entire competition. Just log into your account, go to the link for the promotion and choose your team across any of the following sports:
NFL
NCAA Football
NBA
NCAA Basketball
As part of the promotion, you will always get a ½ Free Point for the teams you sympathize with. Let's put this in perspective. Love the NBA franchise the Golden State Warriors? Let's say that they are playing at -3. With Favorite Teams you will get half a point shaved off for -2.5.
You can track the promotion very easily when selecting bets as your favorite teams will show up highlighted in yellow. GTBets.eu makes it possible for you to bet on the teams you love and squeeze out a lot of value. You can bet up to $3,000 on a single wager for the NCAA Football and up to $5,000 on NFL.
Get Your Friends Over Here
GTBets Sportsbook will also let you bet side-by-side with your friends. For each person you bring, you can claim a RAF bonus equal to 50% of your friends' first deposit and up to $400. To be eligible for the RAF bonus, you will need to have made five lifetime deposits for a minimum total value $500. Your last deposit must have been made no later than three months before.
A Whole Lot of Promotions via Email
Here's a sportsbook that loves to keep you intrigued, and the best way to achieve this is by sending new and exciting promotions around the clock. Your email and in-game account will often be bombarded with some fantastic promotions, which will come in the form of:
Double Reloads
Point Discounts on Bets
Free Bets on Specified Games
Double Reward Point Promotions
No Juice or Half Juice Specials
There are other promos to benefit from as well, and they will be neatly sent to your account on regular basis. Don't worry about missing out, because these promotions will be going around the clock and you will always have access to some fantastic options in the first place.
Your Special Rewards
Every great sportsbook needs their own loyalty program. Gradually building affiliate with the player base is pretty much what every established brand name strives towards and GTBets sportsbook is no different. The 'Rewards' program is there to help you build up your reputation with the bookmaker by placing bets. There are three levels to progress through and vie for better rewards, to name:
Silver Level
Golden Level
Platinum Level
Each level has its own specific points systems. For example, in Silver, $10 will equal to 16 points on sports. This number goes all the way up to 25.5 points in Platinum. You can exchange your points for various rewards, including electronics, golf sticks and official NFL game ball, such as The Duke.
What Markets Are Available at GTBets?
It inevitably all comes down to how many different sports you can bet on. With GTBets, this is usually a pretty good number, and as of the time of our sportsbook reviews, the sportsbook offered 15 different markets. The main competitions were US-focused with events such as American football, hockey, baseball, and basketball heavily featured in both the regular and live selections.

Each of these sports is focused on major leagues such as MLB for baseball and NBA for basketball. American football is heavily featured with NCAA Leagues as well as various regular NFL and future bets available.
As to specific types of bets, it'll depend on the sport. For the NFL you can have a regular game bet, or you can choose to bet on 1st Qtr or 1st Half. Baseball, on the other hand, will focus on Spread, Money and Total. Sports-specific bets are part of the available options. A better break-down of the possible wagers, such as futures, props, half times, quarters, under/over, moneylines, straight wagers, point spread, and more.
What about the GTBets' betting limits? You will most likely find them to be pretty generous with certain sports letting you wager up to $2,000 or $5,000 on a single event! This is a decent amount.
Get the Live Schedule

There are great opportunities to wager live at this sportsbook. The live betting – or in-play – options here are called 60 Minute Wagering. You will notice that the NFL is one of the most bet-on markets when it comes to in-play options. NBA markets are a definite favorite, and depending on your location, you may or may not have access to live wagers on collegiate sports, as GTBets.eu seeks to comply with regulation that may forbid bets on such contests. This is not bad, though – it shows integrity! Besides, there is always the regular wagers to explore in full.
Make Every Second Count: GTBets on Mobile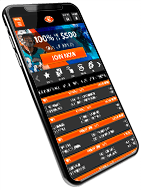 For those of you looking for a great mobile experience, GTBets sportsbook has what to offer. Our review has put the website to a mobile test, using a selection of Android, iOS and Windows devices. The website is intuitive in both desktop and mobile version. You will find all bets on the left-hand side and find browsing from a browser easy enough.
Live betting is also available this version of the website, but we recommend that you play desktop for all your live wagers. GTBets doesn't use an app yet, but that's just as well as the actual mobile version is quite satisfying.
Banking Options
Payment options will often determine how you feel about a sportsbook. We have reviewed the banking options that are available to GTBets customers. Payment options tend to change, but in their essence, they remain the same at this bookmaker. You can always can expect instant deposits and no processing fees. To make it easier for you to see what options are available to you, we have put together the following table:
| Deposits Type | Fees | Min/Max |
| --- | --- | --- |
| VISA, MasterCard, AmEx | N/A | $35/$999 |
| Bitcoin | N/A | $35/$2,000 |
| Bitcoin Cash (BTC) | N/A | $35/$2,000 |
| Skrill | N/A | $35 |
| Neteller | N/A | $50 |
| Litecoin | N/A | $35/$2,000 |
| Pre-paid Gift Card | N/A | $35/$999 |
| Quick Ca$h | N/A | $100/$630 |
When it comes to payouts, you will have slightly fewer options, which is no big deal, but it might be considered a discomfort by some players. The surest and clearest way to cash out is by using Bitcoin. There are no fees associated with this payment options and you can cash out up to $5,000 every seven days, for a monthly limit of $20,000.
The other two options are Bank Wire and QuickCa$h which will unfortunately command certain fees. You may need to pay up to $40 for a single bank wire transfer and the minimum amount you can cash out is $100. Conversely, you can cash out to $5,000 using this method.
QuickCa$h is perhaps slightly quicker when it comes to payouts, with a minimum fee worth $50 or 8% of the requested sum. Keep in mind that the payout department has fixed work hours from Monday through Friday from 9:00 AM to 5:00 PM EST.
Verify Your Identity
If you are serious about playing longer at GTBets.eu sportsbook, you will need to verify your identity by complying with Know Your Customer (KYC) practices. The sportsbook would need you to submit a government ID that proves your identity as well as address so that the origin of your money. This is a standard procedure that is needed to protect underage individuals from coming in the way of gambling harm. The checks are usually necessary after the 6th credit card deposit, but we recommend that you consider completing this step immediately after registration. This will speed out your cash outs.
Customer Support: GTBets Phone Number
GTBets offers customers with some pretty great options to connect. The sportsbook's phone number is available at 1-800-509-487. You can connect via email at support@gtbets.eu and also hit them up on the Live Chat directly. All in all, customer support will be accessible and, in our experience, reviewing the sportsbook, we can confirm that they have been helpful.
Public Opinion of GTBets
To garnet the best idea of how GTBets is perceived by the community of active bettors, it's best to look up the information online. Usually, places such as Reddit will offer comments by people who actually have deposited or tried the betting markets. Generally speaking, you will only find balanced opinions online, which is helpful when it comes to making up your mind whether to play at this sportsbook.
Is GTBets Legit?
Safety and security are what come first for any bettor and sports fans. GTBets.eu has proven itself to be a respected sportsbook and as a result you can trust the integrity of the website. Notably, not one official complaint has been lodged against the website over the past five years, which is an impressive achievement by itself. Some Redditors have been a little cautious about potential betting limits, but that boils down to individual experience.
Additional Markets at GTBets
Just like any company that seeks to establish a good name for itself, GTBets offers a race book where horse races are listed. There's a special rebate bonus for all of you who love to wager money on horses and you will certainly appreciate the opportunity. Furthermore, there is a casino and a poker card room here, so don't be shy to experiment!
GTBets' Worth Your While
As a sportsbook, GTBets.eu has a lot to show for and stand out with. The bookmaker has gone the extra mile in providing some exclusive betting options. Even more impressively, there are cool promotions that clearly benefit the bettors.
There's a distinct balance between the sums you can deposit and withdraw, which is great for bettors of all budgets and backgrounds. Trusted and respected, GTBets have managed to stay in business with their reputation intact and the available markets bursting across the seams!