GTBets Welcome Bonus 100% up to$500 Verified Bonus Bet Now First Deposit Only: 100% up to $500 Verified Bonus Bet Now Information Payout Rate: 95% Licenced by:
6 minutes read time
GTBets Welcome Bonus
100% up to
$500
Verified Bonus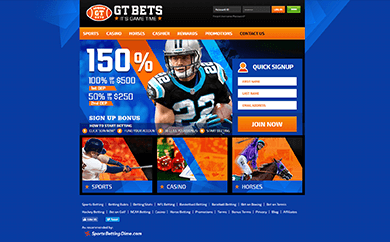 GTBets
Straight Foward Interface
Up-to-date Events
US Friendly
What we liked?
Fee Free Deposits!
Fast Withdrawals
Variety of Sports to Bet
What we disliked?
Restricted US States Allowed
Website Appearance
Experience in the Industry
GTBets is an online offshore sports betting website. GTBets provides clients the ability to wager on various sports such as football, baseball, basketball, soccer, combat sports and several other professional sports. GTBets also provides its clients with the option to play sports in Europe, Africa, Germany, Italy and many additional countries not associated within or surrounding the United States.
GTBets offers a very nice option for mobile betting using their mobile platform. Their mobile platform is iphone and android friendly and can be used on most major tablets.
History & Background
GTBets went live with their company in 2011, which means they have just under 8 years in business. They are based in Curacao, where they are licensed and headquartered.
Pros: Reasons to Bet at GTBets
One of the only offshore sportsboots that offers free deposits with no fees is GTBets. This is a significant bonus option if you consider that some websites charge up to 10% for a deposit made on a credit card. With GTBets, you can save money by simply making those deposits using either major credit card or Bitcoin.
One of my favorite reasons to bet at GTBets is the fact that they offer the fastest withdraw options available in the industry. With Bitcoin and Quick Cash options, you can legitimately get your money in under 48 hours.
Finally, GTBets has some of the widest varieties of sports to wager on including Football, Baseball, Basketball, Combat Sports, Golf, Hockey, Soccer, Tennis and many different types of prop bets for most all of the sports listed.
Cons: Areas of Improvement for GTBets
One of the areas of improvement that we must address is the fact that, while they accept players from the United States, there are a few that they do not accept clients from. Gamblers that live in the states of Kentucky, Louisiana, Maryland, Missouri, New York, Washington and Washington DC will not be able to use GTBets services.
Another issue that we have with GTBets is their website. We would like to see the website get an overhaul and make it more modernized. GTBets has sort of stayed stagnant over the years and their website looks outdated. All though it is very easy to use, it would be nice to see them do some updates and make their website more state of the art.
Finally, a third thing that we don't care for is their limited time in the industry. They have only been around for a few years and when dealing with large players, it is always recommended that you use a website that has been around for many year! Use caution due to the limited amount of time and experience in sportsbetting!
All Sportsbooks Recommended Are
100% Guaranteed Secure Deposits
Human-Verified Bonuses
Zero-Risk Betting with Industry-Grade Cyber Protection
GTBets Bonus Details
GTBets offers many bonuses including their most popular bonus being the 100% new account bonus. New clients will receive a 100% bonus up to $500 for all new account users. Another very popular bonus through GTBets is their reload bonus. With the reload bonus, you will receive between 5% and 50% automatically deposited in your account for each reload bonus you make.
GTBets also has a nice little bonus for referrals. For each friend that you recommend to GTBets, you will receive a 50% bonus based upon your friend's initial deposit up to $400! Now, for the horse players, you will receive a 15% cash back on horses racing losses each month.
GTBets Banking Options
They offer a wide variety of options for banking, making deposits and withdraws with GTBets. Making a deposit at GTBets is one of the easiest processes among offshore sportsbooks. The biggest perk among making a deposit with GTBets is the fact that there are no fees associated with the deposits.
GTBets give you the option of using Bitcoin without a fee, as well as making a withdraw with them without a fee! You can also make a deposit using Visa, Mastercard, American Express, as well as pre-paid gift cards. GTBets also affords their clients the ability to make deposits via Neteller, Skrill and QuickCash.
As we said earlier, you can make withdraws from Bitcoin for free. They will allow you 1 free Bitcoin withdraw every 30 days. They also give you the ability to make a bank wire, for a small $60 fee. We recommend always using Bitcoin to save the fees and to speed up your deposit and withdraw.
Customer Support
The GTBets customer service team is available to be contacted via phone, email or live chat. You can contact them by telephone at 1-800-509-4847. If you would prefer to email them, you can reach them at one of several emails.
For basic support, you can email [email protected]. For new sign ups, you can email [email protected]. For withdrawals, you can email [email protected]. GTBets also has a live chat feature that is available Monday thru Sunday 10:00 AM thru 4:00 AM Eastern Standard Time.
Public View of GTBets
For the most part, the public view and opinion of GTBets is fairly decent. A quick google search results not many complaints about the company. Compared to other offshore sportsbooks, their reputation is very good. They have a halfway decent Twitter following but their engagement is very light. They have 1005 followers and have posted 875 tweets.
Conclusion
In conclusion, we like GTBets, if you do not live in one of the states that we have noted earliers in the article. We feel that they are reliable, offer the usage of Bitcoin and are dependable with withdrawals. We like the fact that they offer many sports and not just the basics. They offer you the ability to not only wager on the sports industry but also provide you with a nice racing book for the ponies. GTBets is a great offshore sportsbook for a secondary site to wager shop as they provide you with decent odds and competitive lines.