Bodog Welcome Bonus Verified Bonus Bet Now First Deposit Only: Verified Bonus Bet Now Information Payout Speed: 1 – 5 Days Licensed by: Not applicable Depositing Methods Licensed In N/A Deposit Options VISA, Mastercard, Amex + 3 others Free Welcome Bonus Welcome Bonus up to C$200 Bodog Excellent quality Bodog mobile app Singular account for […]
13 minutes read time
Bodog Welcome Bonus
Unavailable in US
Verified Bonus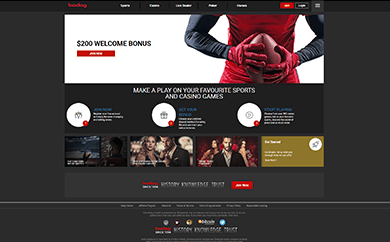 Bodog
Excellent quality Bodog mobile app
Singular account for sports, poker and others
No software downloads necessary
What we liked?
Excellent quality Bodog mobile app
Singular account for sports, poker and others
No software downloads necessary
What we disliked?
Dated user interface
Professional players not allowed
There is a curse and it says 'may you live in interesting times'. This is precisely what happened to Bodog founder Calvin Ayre who started his career as a white-collar employee and ended up on the US Homeland Security 10 Most Wanted List. Not a list you want to be on. Today, we will deliver a full and objective Bodog Sportsbook review that will dig deep into what makes this operator one of the best options for betting people such as yourself. Before we delve into the background of the company a little further, let's first see what has caught our eyes right away.
Bodog comes with a delightful FIAT and Bitcoin welcome bonus, a fantastic selection of sports markets, and believe it or not – a security so iron-clad that any attempt to break the rulebook is virtually impossible. Don't feel encouraged to try, however. The sportsbook started as an outlier but today it dictates the rhythm of the entire industry. Catering to Canadians and US players, you will do well to visit Bodog Sportsbook if you want to see where the sports betting industry is headed. Let's get started.
Bodog Sportsbook History and Background
Calvin Ayre has had his hands in many things over the years, but Bodog is the entrepreneur's lasting legacy. You can say anything about the man – much of which will be true – but the sportsbook that he has helped create is an established player trusted by many. Despite what they may think of the company's founder.
Bodog started early, in fact as early as 1992 when Ayre first found out that offshore companies were accepting bets over the phone. Ayre saw this as a rather clunky method of doing business and while some sportsbooks had built their entire offer around that practice at the time, the Canadian entrepreneur thought that the Internet would better serve as a medium of facilitating sports betting.
He was right on a scale that would turn him into a very rich man indeed, but also put him directly into the cross-hair of some of the toughest US enforcement agencies. And so, intrepid and undisturbed by butting heads with federal authorities, Bodog first saw the light of day in 1994. An early time for any sports wagering.
Today, Bodog has accumulated quite a few stories and experiences and it remains one of the defining bookmakers out there. As to Calvin Ayre, he is no longer on any watch lists. In July 2017, US prosecutors dropped the felony charges against him as Ayre pleased guilty to being an accessory to the transmission of wagering information. He paid a $500,000 fine in the United States and has been sentenced to a year of unsupervised probation.
That's glad tidings for both the entrepreneur as well as Bodog as a brand that continues to service some of the largest markets in the sports betting world.
Reasons to Bet at Bodog
Bodog focuses on providing bettors with an intuitive platform that will accept wagers on a variety of sports. You can pick from an authentic selection of sports-specific wagers and rest assured that you are making the right pick. The odds and lines listed add value to your betting and boost your overall potential to turn a profit. Plus, there are various bonuses that will allow you to increase your bankroll exponentially. Whether you enjoy regular or Bitcoin banking, Bodog Sportsbook is your place under the sun to be.
All Sportsbooks Recommended Are
100% Guaranteed Secure Deposits
Human-Verified Bonuses
Zero-Risk Betting with Industry-Grade Cyber Protection
Reputation
With Calvin Ayre being a divisive figure, Bodog has preferred to keep an upstanding profile. As a result, the company has been repeatedly cited as one of the top choices for sportsbetting enthusiasts. Browsing forums and reading professional and player opinions, Bodog stands tall in an industry that many regard with suspicion.
Yet, Bodog is repeatedly cited as a straightforward solution for any sports bettor. The company offers great spreads, moneyline – odds, and various prop bets. Initially, the implementation of the most recent UI/UX update in December, 2018 was taken with a bit of caution and a few complaints, but the website has been optimized since.
Mobile Betting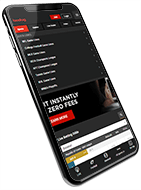 Many bettors have been looking for a Bodog app, but the website has preferred to stick with an innovative UI that allows bettors to place wagers and transact money from any handheld device. This includes smartphones, tablets, and the occasional laptop if you still like to have a little more in the way of a traditional experience.
Ultimately, the bookmaker is compatible with any Android and iOS device on the planet, which make it the most accessible websites out there. Just remember that you don't need to download any app and can start placing your wagers right now.
The navigation is lightning quick and while the new UI took some getting used-to by the old dogs, new players will find the crisp graphics and overall simplicity of the offer to be a great boon to their betting.
Crypto Banking
Bodog Sportsbook has gone well above and beyond to make sure that bettors have access to some of the finest banking options. Not surprisingly, one of those options is Bitcoin. Being able to deposit and wager at the drop of a hat is just too good to pass up on. True, cryptocurrencies require a bit more in the way of technical knowledge, but once you get the ropes, you are good to go.
Bitcoin banking has many fantastic upsides, such as immediate deposits and swift withdrawals. Forget about ever having to wait up to 72 hours for a withdrawal when Bodog will have your BTC out on its way in the matter of minutes. There is a full FAQ that focuses on Bitcoin exclusively, and we urge you to spend some time going through this as it will prove extremely helpful if you intend to play longer at Bodog.
Live Betting

Bodog has a reputation for keeping things simple and to the point. The live betting offer is no different, with 20-odd markets available around the clock. All big events from the world over, be that Europe, Canada or the United States, will be featured at Bodog. Bettors have the remarkable opportunity to make all the difference they need by placing well-timed wagers. The live betting interface is very smooth and allows for quick navigation, which – let's face it – is essential to having a good time on any in-play wagers.
Areas of Improvement for Bodog
This is a sportsbook company that has been going only up since it first arrived in 1994. Despite some of the lengthy odds it has had to overcome, Bodog has stayed true to its original promise – to deliver a reliable betting experience at great value. After years on the job, we have a very good idea of what the website does for the customer.
Yet one big question remains – can Bodog do even better? Many believe it can. While you won't find the offer lacking, you will notice that the bookmaker tends to shift the focus on only the largest games in the industry, which is definitely not something to hold against them.
Many bettors agree, though, that adding some secondary markets could spice things up and give a little more versatility. Then again, Bodog is equally aware that it may only add markets it can guarantee for and follow up close so as to prevent foul play. Nevertheless, it would be nice to see some specific events featured. Don't take this as a criticism of the offer, however, because presently, there are over 25+ available markets to pick and choose from on the bookmaker's website.
Perhaps the thing that is really worth mentioning are the available payment options. There are several highly-trusted options right now, but they could all benefit from a slide upgrade in numbers.
Wagering Options at Bodog Sportsbook
With a comprehensive offer and over 25 markets to pick from – meaning sports – you will definitely have a lot to do around Bodog. They are masters of crafting some of the most accomplished lines, and you can expect to find a wholesome variety of regular and in-play wagers, including:
NFL Game Lines
MLB Game Lines
WNBA Playoffs
UEFA Championship League
English Premier League & many others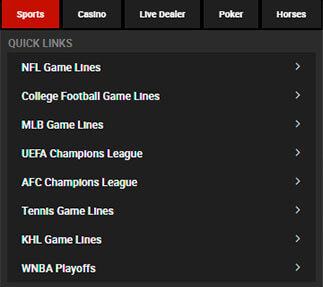 As you can see Bodog soccer is big, and the sportsbook does its best to cover many events. There is an alphabetical drop-down menu for all available types of athletic competitions out there. By choosing a specific sport, you will find all events covered as well as the markets. For the majority of the sports, there are Spread, Win and Total bets.
Depending on the sport, you will get some cool wagers. For soccer that is first & second half lines, total corners, total corners 1st half, team to kick-off, both teams to score and more. NBA futures and MLB innings are also some of the exclusive bets you will want to explore here.
Overall, Bodog has a very dedicated approach to the sports it has ready on offer. We can definitely recommend you this sportsbook for its fair offer and selection of markets. Plus, if you ever feel the need to experiment with alternative form of betting, you can go to Bodog eSports and bet on the outcome of video game competitions!
Bodog Bonuses and Promotions
Bonuses are an integral part of any sportsbook out there, and Bodog Sportsbook is no different. Whether you want to bet from Canada, the United States or somewhere else, there is always an offer waiting for you to pick. Here are the bonuses that Bodog currently offers its customers.
$200 Sports Welcome Bonus

Each great sports adventure begins with getting your first bet right. Yet, there is an alternative that Bodog offers in the form of $200 worth of free play bets. This is a 100% matched bonus that is granted to all new users. Once you make your first deposit, you will be granted the bonus within 30 minutes. There is a simple 5X rollover requirement that goes hand-in-hand with the bonus, which is already very generous.
Remember to only attempt to withdraw after you have cleared the bonus terms. Any attempt to withdraw before the T&C's have been met will result into automatic forfeit of both the bonus funds and any winnings thereof.
Bitcoin First Deposit Bonus

If you are looking to kick your sports betting experience into a higher gear, there is perhaps no better way of doing this other than opting for the Bitcoin bonus. Another upside is the fact that you will get up to $300 worth of Bitcoin for your first deposit, once again at a rate of 100%. You will once again be subject to the same 5X rollover requirement and be expected to clear the bonus requirements prior to attempting any withdrawals.
Bodog Bonus Codes
Bodog doesn't necessarily make use of bonus codes. Instead, the sportsbook focuses on delivering the available promotions quickly enough to help you optimize the process and time necessary to start playing. The occasional bonus code could make an appearance on Bodog around the time of major events, such as the Super Bowl or the NBA finals, but overall, you don't have to worry about missing on a great bonus you forgot to enter the promo code.
| Offer | Bonus Code | Wagering Requirement |
| --- | --- | --- |
| 100% Bitcoin Bonus up to C$300 | BOSBITCOIN100 | Sports betting only |
Payment Options
Bodog runs a comprehensive offer that focuses on several payment options exclusively. As a result, you will find debit and credit cards available to make deposits, as well as Bitcoin . Beyond that, Bodog can really use some more banking methods, and specifically e-wallets. You can choose from VISA, MasterCard, American Express. Bitcoin is available both as traditional Bitcoin and Bitcoin Cash (BTC). The difference is that BTC is considered to be a little more stable in terms of price fluctuations.
There are some fees that apply here, but that's mostly because of the payment processor specifications and not Bodog's own decision. So, for currency conversions, you can expect between 5 and 10% of the value of the transaction, which is steep. Bitcoin is the only payment option hat saves you this hassle.
In terms of withdrawals, Bodog can use some improvement, since Check By Courier, Bitcoin and Direct Bank Wire are the only options here. Still, this is not too bad and the processing times are very decent:
Cheque by Courier: 10-15 business days
Bitcoin/Bitcoin Cash: 15 minutes
Direct Bank Transfer: 3-5 business days
If you think your payment is being delayed unnecessarily, you can always contact customer service. This is one of the areas where we found Bodog to be very helpful and responsive.
Customer Support
Bodog has a neat customer support system that is available 24/7. To contact the sportsbook we recommend using the live chat option or going directly to the FAQ section where all questions that you may need answered will already have a solution. During our review, we found the FAQ section to be thorough and to correspond to what we established to be true at Bodog. One very minor issue is that some of the screenshots there are a bit dated, but the information is always up to date. Unfortunately, there is no phone number you can call Bodog at, but the live chat option is just as trustworthy.
Bodog Security and Licensing
Licensed and based in Antigua, Bodog is an operator that strives to uphold regulatory services. As a result, you get to enjoy fully-vetted and optimized solutions that make placing your next sports wager a very simple and more importantly – reliable affair. Bodog's betting options are considered to be secure thanks to the SSL encryption and their solid track record with 20+ years in business. The sportsbook is also promoting responsible gaming and has linked out to GamblersAnonymous.org for anyone feeling that their betting habits may be getting out of hand.
Our Verdict
Bodog is a well-rounded sportsbook that we definitely think you should have on your own list of great betting venues. From the exciting life story of founder Calvin Ayre to the success of the sportsbook in recent years, Bodog has all the makings of a fantastic bookmaker. This paired with their global reach makes them one of the best bookmakers we have had the pleasure to review.