Today we take a look at the world's best esports betting sites in the world and specifically what makes them so good. Market variety and a great selection of odds are just some of the defining features of the top video game betting sites you will find out there. Moreover, there are reputation checks, great […]
21 minutes read time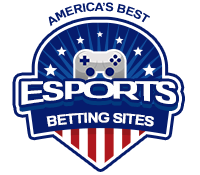 Today we take a look at the world's best esports betting sites in the world and specifically what makes them so good. Market variety and a great selection of odds are just some of the defining features of the top video game betting sites you will find out there.
Moreover, there are reputation checks, great bonuses, and the feeling that you belong. Oh, and if Reddit tells you that an esports sportsbook is good, that has to be the case. Unlike other groups of fans, esports bettors stick together and put their trust in the community.
Want to find out the top-ranked esports betting sites?
Use the links below to jump to the section you are interested in:
Top Esports Betting Sites
1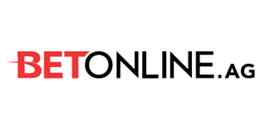 BetOnline
Features
Very generous bonus payment system
Bonus codes for every major event
Mobile compatible and accessible
Payout Speed 1-4 days
Exclusive Bonus 50% up to $1000
2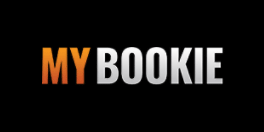 MyBookie
Exclusive Bonus 100% up to $1000
3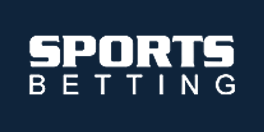 SportsBetting.ag
Exclusive Bonus 50% up to $1000
4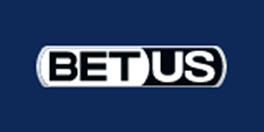 BetUS
Exclusive Bonus 125% up to $3125
5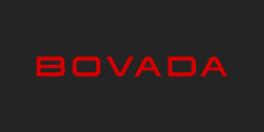 Bovada
Exclusive Bonus 50% up to $750
6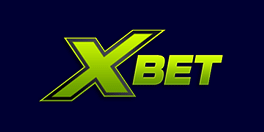 Xbet
Exclusive Bonus 100% up to $300
Esports are the world's latest competition loved by millions. Whether you are a League of Legends (LoL) fan yourself or love the more 'hardcore' Dota 2, video gaming is probably a big part of your life. Some of you probably identify yourselves as popcorn gamers where others take on the esports action without any compromise. Amid the massive popularity of the activity, a new market has emerged – that for esports betting.
Esports Betting Sites Reviewed
1. BetOnline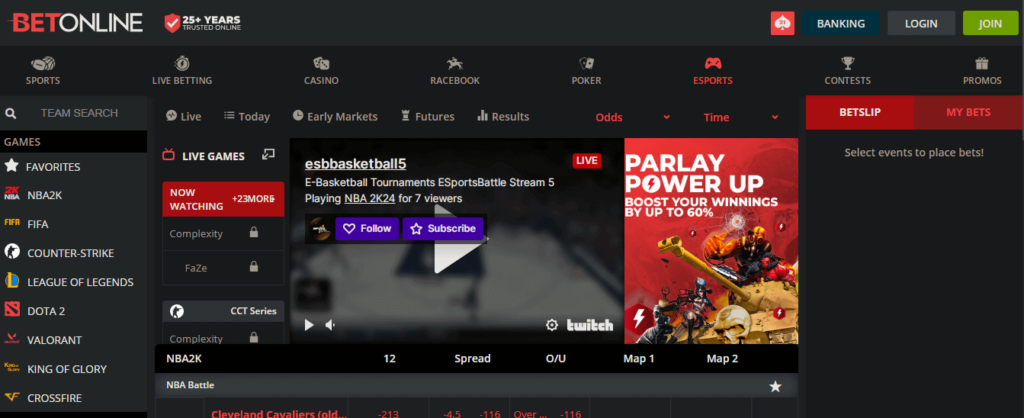 BetOnline is a sportsbook that has been in the business for more than two decades and is positioned at the top in any possible category. They have been one of the pioneers in esports and its introduction into the business, and as such, they've incorporated various games. At BetOnline, you can find LOL, CS: GO, Dota 2, Starcraft, Kings of Glory etc.
Their options for betting on esports are similar to the ones on sports, and the number of markets for each game is pretty impressive. For example, you have the match winner but also the option for betting on each map and the winner of the same or spread betting, etc. They also have futures for some big tournaments, like The International.
The welcome bonus is 50% on the first deposit, and it goes up to $1,000, and that's for traditional payments. If you take crypto, it is 100%. As for promotions, there aren't too many of them, and that's a very big minus for these sportsbooks.
Plus: Plenty of futures and betting markets
Minus: Not many promotions and bonuses for esports
2. MyBookie
Highly respected sportsbooks, MyBookie has been a part of the esports community for quite some time. They have all the features and elements of a top-notch betting service, including betting on the top esports tournaments, in-play offers and numerous games on their menu.
The interface is optimized for both mobile and other devices and is equipped with all sorts of shortcuts, which make the experience enjoyable and easy for both newbies and those who are veterans in esports betting.
A flaw we have to mention is the absence of live streaming, so you won't be able to watch those battles you laid a bet on. Most of the remarks are focused on that, and we hope that MyBookie solves this problem soon.
The welcome bonus is up to $1000 with a 50% deposit match, and there is a reload bonus of 25% up to $500. 
Plus: Fast and responsive platform
Minus: No livestreaming
3. Jazz Sports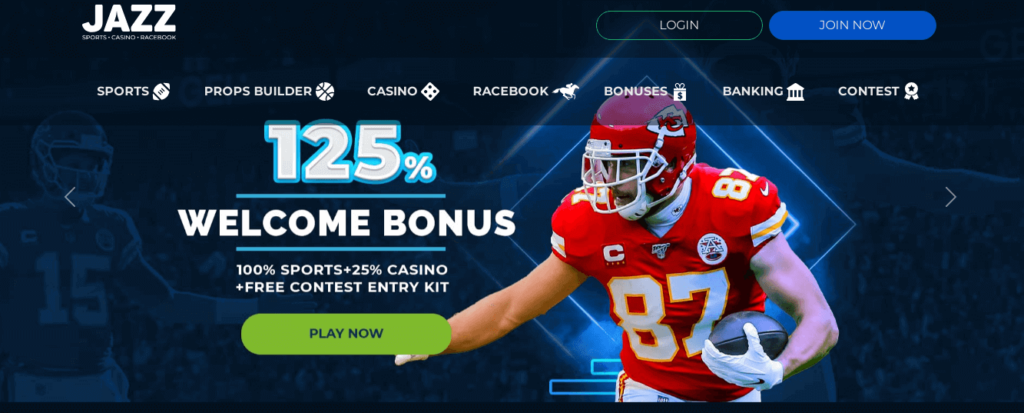 Jazz Sports recognized esports as a developing part of online gambling. That's why this sportsbook dedicates a lot of attention to tailoring the offer for the visitors.
You can find all the relevant and trendy tournaments and matches on the platform, with good odds and deep markets. LOL, Call of Duty, DOTA 2, Warcraft 3, and many more are in a standard Jazz Sports offer. The platform allows you to monitor live scores and changes in real time and have all the correct info when placing bets while the game lasts.
The payment methods are diverse and include both crypto and P2P, but the aforementioned is limited to $500.
Plus: Good live coverage
Minus: Payout Limits
4. BetUS

The veteran on the US betting market, BetUS, offers a wide range of esports betting opportunities. Hearthstone, Fortnite, Overwatch, CS:GO, Dota 2, League of Legends, all these games are on BetUS's offer. Also, according to various sources from this branch, we can expect more tournaments to be added in the future, because the brand apparently plans to extend its offer.
Surely, BetUS has a strategy for taking over the market because they have bonuses specially designed for esports. They aren't too high for the moment, but that might change. The initial deposit on esports will earn you 100% up to $100 and 150% for crypto deposits. There is one more convenience: a 10% cash bonus on any esports bet.
Plus: Bonuses for esports
Minus: Odds are average
5. SportsBetting.ag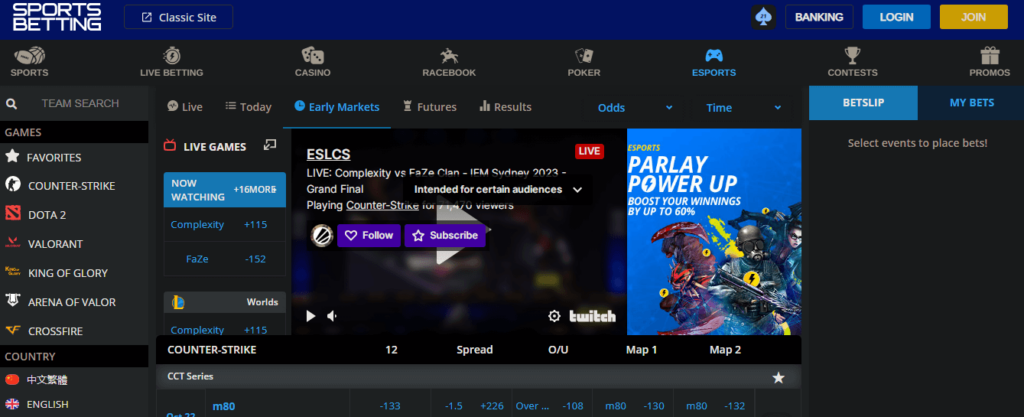 Plenty of FIFA and NBA2K fans visit Sportsbetting.ag, because these two games are highly popular among their clients. This brand doesn't have anything particular linked with these "esports," but according to the reviews, FIFA and NBA2K stand above Counter-Strike, DOTA, LOL and others.
This might be because of fantastic bonuses and promos, which are SportsBetting's biggest strength. We'll start with the welcome bonus, which is 50% of the first deposit or up to $1000. Players are given a 20% weekly esports rebate, which is an excellent convenience, while on the other hand, they have a Rainbow Six tournament. Parlays are boosted with a "power-up" feature, adding up to 60% of their original worth, and all this makes SportsBetting.ag tempting.
Their payout methods are reliable, fast, and secure, but we don't like that SportsBetting sometimes has rigid conditions in terms of rollovers.
Plus: Esports rebate
Minus: Various limits and conditions
6. Bookmaker.eu

Unlike other areas, this one is poorly covered at Bookmaker.eu. The landing pages are filled, and they have relevant content, but other than that, we haven't seen anything notable.
The absence of the odds is something that surprised us. Bookmaker.eu is consistently among the first to release odds no matter the sport, but when it comes to esports, that isn't the case. They probably publish the odds shortly before the tournaments or matches because we couldn't find anything when researching for this review.
Plus: We didn't see any
Minus: Very poor coverage of esports overall
7. XBet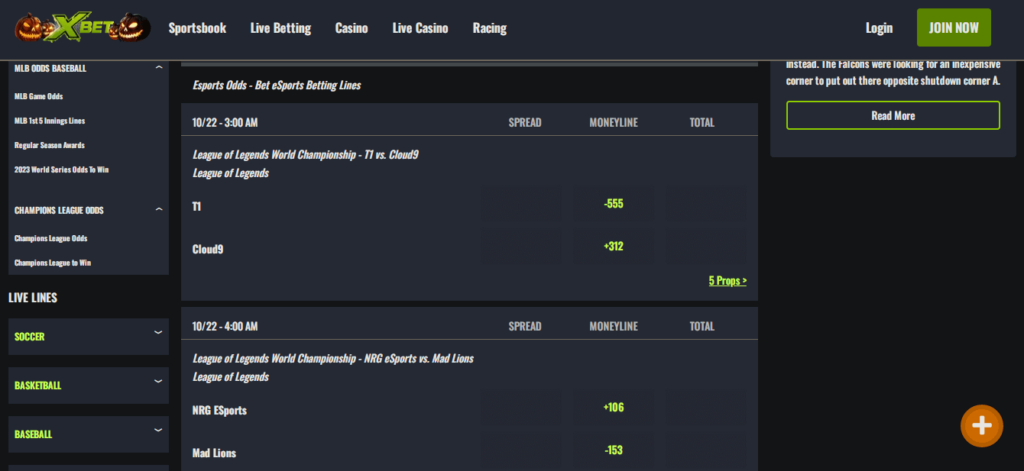 The dark interface is the first thing you'll notice upon landing at Xbet, and most gamers love that because it suits their eyes. The design further gets interesting and appealing because of easy navigation and high visibility, as XBet really has a user-friendly format.
Esports are easily reachable, and the odds on the same are notable, visible, and, more importantly – competitive. This brand includes plenty of games for betting, such as Dota 2, Valorant, League of Legends, CS:GO. They mainly focus on the big tournaments and don't cover the minor ones.
Xbet has something that other sportsbooks don't have, and that is a really cool esports blog with all the latest news from the world of video games. It's a handy and practical thing and a solid source of information.
Welcome bonuses aren't high at all, up to $500, but they have continuous promotions, including Refer a Friend.
Plus: Excellently designed interface
Minus: No fiat payments
8. Bovada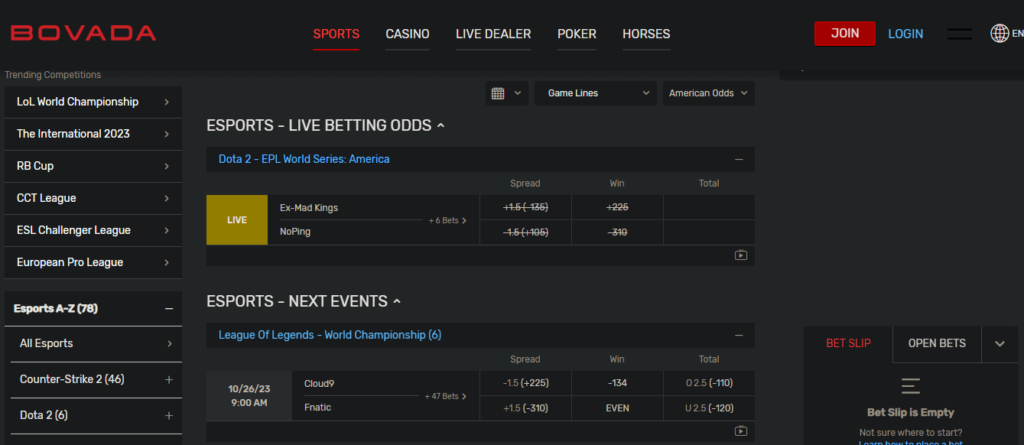 There's no doubt that Bovada offers the most esports to bet on. Upon reaching their website, you'll see that the options are practically unlimited and that even the biggest die-hard esports fans and lovers will find their needs fulfilled. Right now, Bovada has 29 different esports, the most of all the top sportsbooks on the market.
Now comes an even better part. All these sports and all the games are available on live streaming, which additionally makes this brand attractive. Even if you aren't betting on one particular event, you can still observe the competition and enjoy it, and that's a massive plus for Bovada.
The interface is excellent, live betting software is fast and responsive, odds are quickly updated, and you won't encounter any waiting or similar. The regular pre-match offer is diverse, with profitable odds and plenty of markets.  Bovada's welcome bonus is 75% of the first deposit, and it goes up to $750.
Plus: Live streaming is available
Minus: Odds not that high
9. EveryGame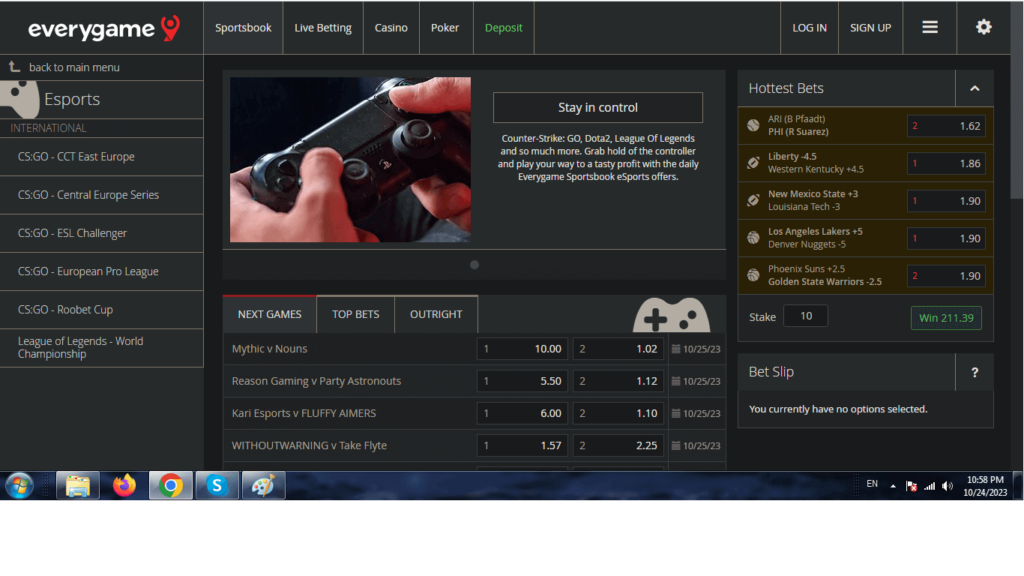 This sportsbook is focused on League of Legends, making it the central place for betting on this particular esports feature. For the moment, there are five different tournaments on the website, which is fantastic and opens plenty of opportunities for betting.
EveryGame has arguably one of the easiest interfaces on the market. The entire place is properly organized, with top matches and tournaments placed in the visible spot. Unlike most of the rival brands, EveryGame doesn't have an application for mobile devices, but even so, the website is optimized for smartphones.
Live betting is good, with competitive odds, but there isn't a live streaming option.
Promotions are frequent at EveryGame, especially for League of Legends. Other than that, the visitors have some interesting contests, like the one where the best winning parlay of the month wins an additional $1000. Bonuses aren't high, 50% up to $200 for new players.
Plus: Good promotions
Minus: No mobile app
Esports Betting: Variety of Wagers & Games
One of the main reasons why esports betting gets so much attention is the availability of markets. Today, there are at least ten highly competitive titles that are featured in esports gambling sites around the world. If that tells you anything, it's that esports are clearly in an upswing. Just look at the available titles you can wager on!
You will start with all the classics, such as LoL, Dota 2, CS:GO, and StarCraft II. As you build your confidence, your betting appetites will extend to games such as Overwatch, Call of Duty, Clash Royale, Arena of Valor, Rocket League, FIFA19, and many more.
Yet, most esports betting sites will focus on several titles exclusively. As a result, you will most commonly be able to bet on:
LoL
Dota 2
CS:GO
StarCraft 2
Overwatch
Why? Because these games have a steadfast following with millions of dollars being poured into them. Other games to keep an eye out for include PlayerUnknown's Battleground (PUBG), Apex Legends, and Fortnite.
Blizzard is launching Warcraft III: Reforged, which is a spruced-up version of the classic game by the same name. As a result, you will be able to see a spike in betting markets. Video game betting sites will also feature Call of Duty, as Activision/Blizzard approved a franchised league similar to the Overwatch League (OWL). What does this tell you? That it's a good time to be interested in esports betting!
Bonuses for Esports Betting Sites
Esports bettors are unlike any herd bookmakers have dealt with so far. In 2016, Pinnacle Esports smugly reported that only 5% of all esports wagers ever turned a profit. That meant across the entire industry. Pinnacle, the bookmaker explained about itself, was among the operators to actually challenge esports fans in their own stomping ground.
With this being said, you can imagine that traditional sportsbook bonuses won't work with esports fans. First, they are way too restrictive. As a result, most bonuses you can get as a player today come with very simple wagering requirements. No sportsbook actually wants to risk displeasing the esports betting fandom.
Wagering Requirements? Forget About It!
Sportsbooks and esports gambling sites are completely changing their traditional paradigm. Deposit bonuses are still very much the norm, but they have to come in small amounts, and possibly – small rollover requirements.
Meanwhile, innovative endemic operators, such as Rivalry, have decided to focus on a bonus system that rewards you for learning something new. There is also a $25 risk free wager. In other words, you bet on the LoL Worlds, lose your bet, and are immediately refunded to try again.
You can even change the game and place your bet on CS:GO or Overwatch instead. Providing there is an event worth betting on.
Live Betting – All the Rage for Esports Betting
Now, to help you understand how important in-play or live esports betting can in fact be, we will just point out to a simple fact: 100 million people tuned in to watch the League of Legends' finals in 2019. Do you think this is by accident? Not in the slightest. The potential for placing live wagers on video gaming competitions is big to say the least.
Moving forward, video game betting sites will only get better at monetizing out of this. As the viewership and opportunities to watch esports increase, this shouldn't really surprise you.
Esports Betting Guide
Eager to learn the ins and outs of esports betting in a constructive and simple way? We will make this read as informative as a Reddit sub and as easy to read as an Imgur.com meme. Why? Because we know your time is valuable. Betting on esports can be quite fun and to be truly successful and get an edge over the esports betting sites, you need only follow four simple steps. Four steps, no more!
Have a passion for the game – Whether it is Apex Legends or CS:GO, your love for the game will help you make more informed decisions than any of the websites that offer esports betting odds. It's that simple. Develop an appreciation for the esports title you are betting on, and results will follow.

Spend time playing – Unlike many sports fans, gamers can spend a hefty chunk of their time playing the game. You can even come very close to being a semi-professional yourself. It's this immediate accessibility that makes esports so fun. So long as you keep playing and informing yourself, you will always be a step ahead of the esports sportsbooks.

Enjoy the meta – Esports tend to change quickly. Whether it's new teams taking over the competitive scene or the core of the game transforming, change is inevitable. Yet, by learning to embrace that change, you are in for a very rewarding ride. Your esports betting will bring you a good amount of profit so long as you keep your ear to the ground and sense these important changes in the meta.

Pick great video game betting sites – Lastly, picking a website that you can trust is just as equally important. The best websites will always be praised by the community and this is where it gets easier for you to have a blast. Check with your favorite communities to find the best betting options for you, or just check out our list of recommended offshore bookmakers.
Top Offshore Esports Betting Sites
When you are eager to get your hands on some quick action, you will want to only stick with the best esports venues out there. We have managed to thoroughly review a bunch of esports-friendly websites that run some great odds and lines. Want to see for yourself? Sure! When you pick an esports betting site from our list, you are effectively going to benefit from:
Quick payouts
Variety of events
Great selection of games
Straightforward bonuses
Good profit margin
Optimize Your Esports Betting Game
A way to optimize how much you make from esports betting is to register at two or three esports bookmakers and compare their odds. Stick with the best value and make sure to turn a profit. Remember how we told you how most esports sportsbooks end up messing up their predictions in a big time? This is the perfect time to boost your own bankroll. Aside from the top 3 Esports betting sites above, here are a number of honorable mentions for sportsbooks offering Esports betting that we also would recommend checking out:
Bovada – Bovada is a stickler for esports markets. They run a decent coverage on League of Legends, Dota 2, Overwatch, and Counter-Strike: Global Offensive (CS:GO), and StarCraft. LoL gets the most markets and possibly the most bets. Bovada has reliable cashing out facilities and if you are a fan of Bitcoin, you will appreciate this tech-savvy payment option.
BetOnline – We appreciate BetOnline because it is a proper esports betting site. BetOnline in fact has a dedicated esports sportsbook, and guess what – it's available in both English and Chinese. Say what you will, this bookmaker knows how to anticipate trends. You will find three markets here, and specifically, LoL, Dota 2 and CS:GO, but the offer tends to be very comprehensive. You get early markets, outright winners, and you can even verify the results. Looking to bet live on esports? BetOnline is your place!
Bookmaker – If you are eager on more CS:GO markets, you may want to consider Bookmaker. The offer here is very straightforward and you can place bets on line, total and money line. Just pick one of the available options and make your wager right away. All changes will display automatically in your betting slip.
GTBets – GTBets covers a good variety of esports and more importantly, some cool betting options along the way. They feature their esports betting as part of the sportsbook where you will find wagers on CS:GO Starladder Berlin Major, League of Legends CBLOL Winter Season and other cool options.
Types of Esports Bets You Can Make
Esports fans don't really care about the terminology as much, not the betting terminology in the very least. However, knowing what to expect is usually very helpful. We won't trouble you with terms such as "teasers" and "parlays," because frankly – those are very unlikely to appear during a regular betting game insofar as video gaming contests go. What are the types of esports bets you can make?
Match winner – It's always easier to just have to choose your match winner and be done with it. Just click on the esports betting odds for the team you side with and enter the sum you want to wager.
1st game winner – In esports, you get a few games or rounds per event between teams. The format depends on the event, but you have various competitions, from direct elimination to Best of 2 (BO2), BO3, BO5 and even more if the event is more significant.
2nd game winner – You are betting on the outcome of a specific game. The word "game" could be replaced by rounds if we are talking games such as Call of Duty, CS:GO, and Overwatch, for example.
Proposition bets – These are very common and the best esports betting sites will probably offer them. Now, a prop bet – as it's known – simply creates a condition to bet on. Are Team Liquid going to win the International with less than 4 lost games overall? Are OG going to win the finals but still have fewer kills than their opponents? All of these are propositions and they are a little more conjectural than regular types of wagers.
Esports Betting Tips & Tricks
Esports betting can be very lucrative, but you will need to keep a few things in mind to make that happen. First off, you need to truly enjoy video gaming – not in the way you have heard or dabbled into it, but as a matter of an all-out fan who wouldn't miss the LoL Worlds or FACEIT: London (although admittedly that was hosted for the first time in 2019).
How well you perform in terms of esports wagers will solely depend on how well you know the game. Yet, even advanced players can benefit from a few practical considerations. Here's a list of the esports betting tips we believe important in determining your future success as a bettor:
Learn player names, know what to expect – The single most important condition for your success as an esports bettor is of course your ability to always be in the know. Follow the game and team rotations and more importantly – understand them. If a player dropping out of a team means nothing to you, then you are perhaps not really paying enough attention. Player names matter, so focus on them.
Compare odds between video gaming betting sites – Regardless of the website you have chosen, endemic and non-endemic esports bookies have a lot to offer. To be able to tell whether their esports betting odds are worth it, you will need to focus on the odds available. Play with two or three esports betting sites regularly so that you may always choose the best odds.
Heed the community's advice – The community in esports knows which way the wind blows. While basing your bets off what other people think may not be your favorite, you can get a very good idea about why certain trends exist. Listen to what the community thinks and study individual esports betting options.
Read all important esports sources – This could he HLTV.org, Reddit, GosuGamers, or LoL's discussion boards. In each case, these are portals that provide you with a lot of information about the current developments. Many players often end up facing visa issues when travelling to play. This is particularly the case in Dota 2, which hosts its major events all over the world.
Make it fun – Lastly, the most successful bettors are those who love esports from the bottom of their soul and take pride and pleasure in calling the successful outcome of events. If you are in it to just turn a profit, your chances of success will probably not be very high.
Keep realistic about your profit margin – Even the best esports bettors seldom can turn up to hefty 30% on their investment. If you intend to spend $750 on bets this year you could rake back around $225. Not too much, but not too bad either. The bolder you become with your investment money, the higher your chances of success are. Yet, this shouldn't be your guiding principle.
Betting on the Go
Already half of all gaming happens on a mobile device, thanks to esports titles as Honor of Kings, Arena of Valor, Clash Royale, Clan of Wars, and quite a few others. Is it any surprising that the same trend is repeating itself in esports betting? Placing your next wager while in transit is no big deal at all, and most players choose to wager from a mobile device in the first place.
Therefore, esports betting sites must provide fans and bettors with sufficient mobile options. A lot of the new endemic bookmakers, including Pinnacle Esports and Rivalry.gg will end up designing a website that is fully accessible from a mobile device.
Biggest Esports Events to Bet On
And this brings us to one of the most important stops in our journey. The events that provide you with the most opportunities to bet on esports. You see, a few years ago, these events were all the rage. You wanted to participate in esports betting, you waited until August for the International or January for the League of Legends Worlds.
This has changed though, thanks to the franchising model which means that we have tons of games to bet on every day! Yet, the big draws for the community remain things like TI9, Worlds, Starladder, CS:GO Majors and others. To help you find what to bet on and when, we will break down events for you.
Regular Esports Betting Events/Leagues
CS:GO Majors
Dota 2 Majors
League of Legends Championships (LCS)
Overwatch League (OWL)
Fortnite Twitch Challenges
Apex Legends Twitch Challenges
The year is full of esports competitions, and they are duly covered by the best esports betting sites out there. Some events have a little more structure, such as the LCS and the OWL. They offer weekly games on a clear schedule that is posted at the beginning of each season. This makes it easy for smart esports bettors to plan ahead.
Meanwhile, events such as CS:GO Majors and Dota 2 Majors are planned on the fly. There are venues that will almost certainly be featured, of course. For CS:GO that's Berlin and Cologne as well as Los Angeles. Yet the Majors and Minors events, for that matter, are announced gradually and throughout the year. In honesty, nearly all events are available a few months after the first one has been revealed.
Esports Betting Tournaments You Don't Want to Miss Out
Other than the run-of-the-mill action that takes during the regular seasons, there are tons of major esports events that you will be interested in. These events have a massive viewership of over 100 million people each and esports betting sites are well aware of the potential there. Looking to place a wager? Why not do so on one of the most exciting tournaments on video games out there – or on all of them for that matter. They include:
The International (Dota 2's largest event)
LoL Worlds
Fortnite World Cup
IEM Katowice (covers CS:GO, Dota 2, StarCraft, and Fortnite)
Call of Duty World League (CWL)
The Overwartch World League (OWL)
PUBG Global Championship
HALO World Championship
Most of these markets will be covered by all major video gaming betting sites, which gives you an opportunity to compare a lot of odds. For some specific games such as Halo and StarCraft, or even PUBG and Warcraft, the betting markets may be slightly smaller, which is understandable.